MC Commissions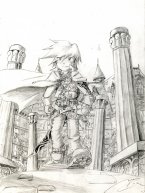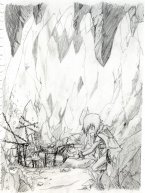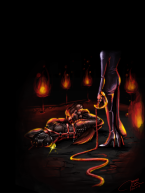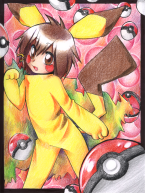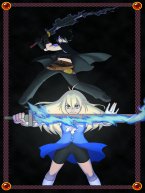 Commissioned Artists: RadenWA, emperpep, midna01, Bowen, Sunny, LtN + Loren.
All of these spectacular artists have deviantart accounts under their respective names.

MC Wallpaper

.
The Story of MC
McCallister Chronicles follows the adventures of Wing McCallister and Lukainy de Marrok. The former is a knight who, by rather strange means, came to serve the latter, a princess of one of the three kingdoms of the Armistice continent. Don't let the name deceive you; Armistice is filled with unusual lore, broken religions, an all-powerful artifact known as The Cross, badass flame wielders, and legendary weapons called soul-forges that have personalities and animate forms.

More importantly, the world is someone's magical playground, and it is up to the characters of the book to put the pieces together to save their home from impending and complete destruction. So gather 'round kids! I dare you to step inside the delusions of my reality.
.
A Few MC Characters
Wing T. Faulkner McCallister - Born on the night the city of Cartheim burned to the ground, Wing is MC's male protagonist. In many ways, he represents the ushering of a new age as he came into existence at the climax of the Great War. His parents disappeared that night as well and left their child in the hands of Kit Carson. Orphaned and prone to trouble, Wing spends most of his time on the streets until he is mysteriously drawn to Lukainy during a feast celebrating the ratification of the Cartheim-Tistal Pact.

Lukainy de Marrok - The story's heroine. In my opinion, Luky possesses all of the qualities a strong woman should. While she starts off the book as a stereotypical damsel, she quickly learns how to carry her own weight. Wit? Absolutely. Brilliant? Girl is five steps ahead. Rope? No problem. Whips? Pffft. Her own knight? Piece of f'n cake. She also knows how to use bandages and is as loyal to her knight as he is to her.

Daizer - Daisuke Rekkr de Marrok - Pulled from the vacuum during Wing and Luky's first encounter, Dai is Wing's soul-forge. A katana that takes the form of a human boy, Dai is rarely far from Wing's side. The two of them share an incredibly special bond that holds the meaning to the story itself. It has been hinted to already, but the truth will have to wait until the end.

Christopher 'Kit' Carson - A captain in Cartheim's Army, Kit teaches young nobles how to become knights and medics. The only current exception to this rule would be his adopted pseudo-son, who gains admittance to the school after saving Lukainy at the beginning of the story. Chris is also the Prince of Cartheim, although he tends to keep this fact on the down-low, preferring to be a member of the Armistice citizenry as opposed to an elevated royal. While he doesn't show it much, Kit considers Wing to be his kin and would do anything to protect McCallister from harm.

Ashton Hunter - An arrogant, rich turdburglar jealous of Wing's position as Lukainy's knight! Ash feuds extensively with Wing in the years the book does not cover and drags it out for several MC episodes. Eventually, things start to turn around, but is it too little too late?

Amora Hunter - Ashton's sister, Amora is one of the most gifted medics in history. Her mastery of potions and elixirs comes in handy more than once. Unfortunately, she duplicates many of her brother's snobbish antics, and it takes her some time to shape up as well.

Trigger - Puts the T in Wing T.F.! One of the fundamental wielders, Trigger is also known as the Battle Flame. As the King of Cartheim, he led his followers into battle in the Great Continental War against a Tistalian force apparently led by his brother, Defy. When he died, Trigger's soul was transferred to Wing, which gave the boy his own special abilities.

Defy - The supposed antagonist! Defy used his power over the Kingdom of Tistal to push its citizens to war with Cartheim decades before MC begins. In reality, he was being controlled by a similar flame user named Conrad. Eventually, Trigger uncovered this truth and tried to set his brother free, but the Battle Flame died when his wish upon The Cross rebounded.

Lutti d'Espoir - The Healing Flame. Lutti was Trigger's love who also met an unfortunate end. Much like her partner's soul, Lutti's essence could not be erased from the world. Her powers were transferred to Lukainy, making the princess the next Healing Flame.

Rachael Wolfe - Head of the Hapsburg 7th, Rachael is the personification of relentless sadism. Of course, a character as awesome (and sociopathic) as this could only be inspired by The Real F'n Rachael, and even though she's an antagonist in this one, brining this character to the page was one of the best parts of writing MC.

J.P. Leondegrance McCallister - Badass by definition, Jack was a Brigadier General in Trigger's Army during the Great Continental War. As Trigger's lifetime friend, he did more than serve. He was Wick's right-hand man. Did I mention that he also fathered MC's protagonist?

Ector the Magnum - Who wouldn't want a 357 revolver that shot bolts of Trigger's flame? You'd be an idiot not to, but for all you hold-outs, what if I told you he transformed into a giant Siberian Tiger with the voice of Sean Connery?

Anne 'Frost' McCallister - A fiesty fighter who rolls in at the end of Book 1 to save Wing from the grasp of the Hapsburg 7th, Frost is Wing's mom. Years ago, she and her husband performed the ultimate sacrifice to spare Armistice from oblivion.

Laura Louise McCallister - One character whose importance I'm not going to slight on this page. Laura is my sister. After ten years of life without a voice, the abiility to walk, or the capability to express herself, I've given her memory an outlet. You'll have to read the book to figure out just how crucial her role becomes, but suffice it to say that she is an essential element to the plot of MC.
.
MC FanFics and FanArt
The Knight -- A Wing Fantasy by vD
The Softest Side of the Wolfe -- by Rachael




Images by Julie


Images by Mog



Images by Shannon, N, Thorn, Alexey, Miya, LtN + vD

MC APSArt



Images by APS

McCallister Chronicles is (c) 2008-Present
All text, pictures, and graphics are property of A.P. Schreckenberger*
*Many individuals have provided me with fanart and/or commmissions.
Their rights to use and distribute their own creations shall not be denied by this publication.


.
Earth-Shattering News, LOL
June 18, 2011: Over the last few days, I have taken a dose of criticism from those who find my use of synonyms for eyes either blashpemous or obnoxious. I'll own up to the blasphemous one, as it comes from Eileen, and I understand, but obnoxious? I just fail to see how the directed use of words compares to drunken undergrads or biting brats. For starters, I'll respond to this by saying that I am not going to change my work based upon the subjective findings of a couple individuals. Criticism is always swayed by personal opinion, and that is just something that an author has to deal with. For every person that complains about something, there are two more that don't care and another that takes the exact opposite view. Being the conceited physicist that I am though, I had to mount some sort of ridiculous counter. Math! For some reason, people think I do not use / refuse to use the word eyes. All it takes is a Ctrl+F to see that it is written twice as frequently as any of the controversial replacements. Really, there is no point to even developing a further argument beyond this. Numbers don't lie. Today I am feeling a bit generous(sarcastic)! Therefore, I have thought of another way to please these disgruntled readers. It is my pleasure to present - to those who cringe when forced to read orb, core, or ocular - McCallister Chronciles - The Dumb Version: For Synonym Haters <-- Now that is obnoxious.

April 18, 2011: More delicious earth-shattering news. I am getting interviwed by the wonderful Eileen Young. Now, the interview won't be posted to her blog until mid-June, but please throw some support/visits to her blog as it is a fantastic oasis for aspiring authors and fans of writing. Check it out at Author's Refuge

On January 13th, I reported that McCallister Chronicles received a commendation as a Buzzillions Reviewers' Choice Finalist. 10 days later, that award was unfortunately removed from the page. Upon further investigation, the staff at Buzzillions informed me that MC held the award for a short time but lost it. It turned out that the awards wouldn't be finalized until the 9th of February. They invited the fans to post more reviews and told me that, with more involvment, MC had a chance to get the award back. It is my pleasure to announce that the fans responded. You guys came through for this book - for me - and delivered spectacular reviews that put McCallister Chronicles back on the award list. Friends, your voices were not silenced! MC is a finalist once again.

Minneapolis, MN, 2/11/2011. A.P. Schreckenberger Publications (www.cfxt.com & mc.cfxt.com) today announces McCallister Chronicles is a 2011 Buzzillions Reviewer's Choice Award Finalist in the Science Fiction & Fantasy Book Category. Finalists of the Buzzillions Reviewers' Choice Awards are selected based on the opinions of real consumers who have purchased and used the product and posted their reviews on Buzzillions.com, the Web's premier hub for customer reviews.

Buzzillions is the only product review site that categorizes its reviews by "user personality", enabling consumers to get ratings and reviews from people just like them. In the case of McCallister Chronicles, the award was determined based on reviews specifically from consumers reading science fiction and fantasy literature.

"Delivering for the fans has always mattered most to me," said Adam Schreckenberger, who has spent the last decade sharing his writing free of charge. "When these fans not only take the extra step to buy the physical book but provide glowing reviews as well, it makes me feel as though I've claimed a victory for the little guy. I am proud to have received the Buzzillions Reviewers' Choice Award as it is wholly based on the feedback of those who have read my works. It is a source of motivation to keep going and produce even better material."

"Most of the industry product awards are judged by a small group of industry experts," said Jim Morris, General Manager of Buzzillions. "The Buzzillions Reviewers' Choice Awards are unique in that they are judged by the people, for the people. It speaks volumes for McCallister Chronicles to be recognized by the toughest judges of all - the customers."

More info about this fantastic turn of events can be found at the bottom of the page.

About the Buzzillions® Reviewers' Choice Awards
Buzzillions Reviewers' Choice Awards are selected utilizing a special algorithm that ranks products reviewed by consumers in the calendar year of 2011. This algorithm incorporates star ratings, number of reviews and the reliability of the reviewers (reviews by "Verified Buyers" are given more weight). The #1-ranked product is awarded "Reviewers' Choice Winner" status. The #2 - #5-ranked products are awarded "Reviewers' Choice Finalist" status. Buzzillions, which has nearly five million reviews, is a one-stop product research site for consumers, providing reviews and recommendations from real product users for more than 1.3M products in thousands of categories, including consumer electronics, apparel, sporting goods, health & beauty and home & garden.